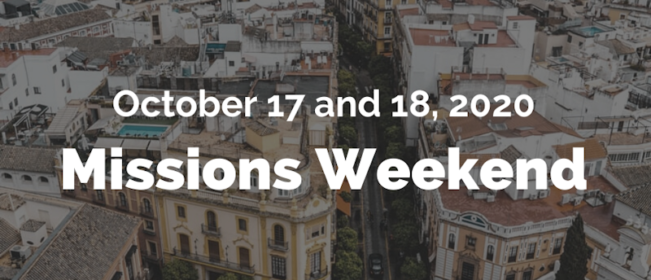 Nature Family Scavenger Hunt
Saturday, October 17, 2020
10:00 AM – 12:00 PM
Join us as we explore Burke Lake for a Family Scavenger Hunt and explore how God wants lost people found. We will have a special guest speaker for kids and each child will get their own scavenger hunt supplies. Space is limited so please RSVP. We have our own picnic area reserved for the whole day so bring your own picnic lunch if you want to hang out later.
Online Worship and Lunch
Sunday, October 18, 2020
11:00 AM Service; 1:00 PM Lunch
Join us for our online missions worship service on Sunday, October 18. We'll have lunch with our missionaries at 1:00 PM after our online service. There will be a chance to hear more from our missionaries, ask questions, and pray together.
Outdoor Sunday Service
Sunday, October 18, 2020
4:00 PM Service
Virginia Highlands Park
Join us in person at our outdoor service at the park. We will have a chance to hear from one of our access workers serving in Central Asia. This will be a great opportunity to hear about what God is doing in other parts of the world. Don't forget to RSVP to join let us know you'll be joining us!
Missions Theme Prayer Meeting
Tuesday, October 20, 2020
8:00 PM Prayer Meeting
Zoom
Join us for our Tuesday Night prayer meeting focused on God's heart for the lost. We will spend dedicated time praying for our partners and for their work.
National Alliance Missions Event
Friday, October 23rd, 2020
7:15 PM Live Stream

Join us for a live, virtual Alliance family event as we celebrate what God has done, is currently doing, and what we trust He will continue to do through the pioneering missionary spirit He has breathed into us.